Retail Solutions

---
Heat up your profitability with Penguin Brand Dry Ice®
We serve over 5,000 premier grocery stores, superstores and independent operations on a direct-store-delivery basis coast to coast, including: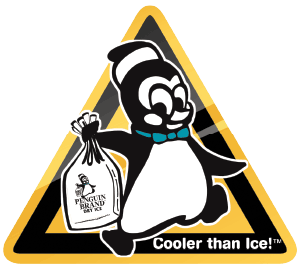 Albertsons/Safeway
Basha's
City Market
Food 4 Less
Fred Meyer
Harris Teeter
HEB
Hy-Vee
Kroger
Meijer
Publix
Raley's
Ralph's
Smart & Final
Schnucks
Smith's
Penguin Brand Dry Ice®
Penguin Brand Dry Ice® is a handy and convenient way to cool or freeze food items. From cooling sandwiches and drinks while sunning at the beach to creating fun special effects for Halloween and theatrical projects, Penguin Brand Dry Ice has many uses. During power outages, placing Penguin Brand Dry Ice in your refrigerator can prevent perishable items from spoiling. Penguin Brand Dry Ice is also a great way to extend the life of wet ice.
Frequently Asked Questions about Penguin Brand Dry Ice
Where do I buy dry ice?
Penguin Brand Dry Ice can be found at more than 5,000 locations nationwide. To find a location near you, use our Dry Ice Retail Location Finder.
What are the safety concerns with dry ice?
Dry ice sublimates into gaseous carbon dioxide (CO2), so be sure to store it in an insulated, but not tightly sealed, container or outdoors. When using dry ice, always do so in a well-ventilated, open space. Also, Penguin Brand Dry Ice encourages you to use gloves, tongs or a towel when handling dry ice, as it can irritate skin if contact is made for more than several seconds.
How long does dry ice last?
Stored in a 25 qt. cooler, dry ice sublimates at a rate of 10 lbs. every 24 hours.
How much dry ice will I need?
For a standard 25 qt. cooler, use 10 – 15 lbs. per day. For fog effects, use 5 – 10 lbs. of dry ice for every four to eight gallons of hot water. For emergency uses such as during a power outage, use 1.5 lbs. of dry ice per cubic foot of freezer space.
Is dry ice toxic?
No, it's not. Dry ice is the solid state of carbon dioxide.
How do I dispose of any unneeded dry ice?
Place any unused dry ice in an open, well-ventilated area inside a cooler or paper bag or just set it outdoors away from children or pets. It will disappear in a short amount of time.
To learn more about how to use or where to purchase Penguin Brand Dry Ice, visit our website.