Go beyond protection
Enhance comfort, performance and productivity with Ansell® disposable gloves—including the innovative new Microflex® 93-850 featuring TNT™ chemical splash resistant technology.
---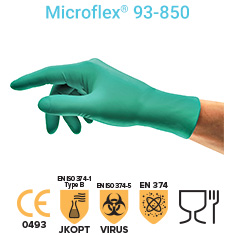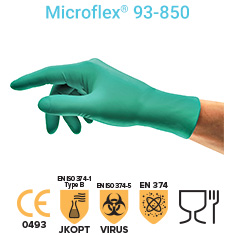 Best used for:
Blending & compounding materials
Cleaning equipment & surfaces
Filtration process
Laboratory analysis
Light assembly tasks
Light chemical handling
Sample taking & processing
Transferring liquids & solids
Get the ultimate barrier against harmful exposures
While ordinary disposable gloves may provide some protection against accidental exposure,
Microflex® 93-850

goes beyond protection to provide:
Significant reduction of rips, tears and breaches
2X more durable than leading brands
2X more chemical splash protection than other leading brands
Highest known standard for barrier quality and consistency (Low 0.40 AQL)
Soft, durable protection against a wide range of chemicals
Silicone-free formulation for product protection
To get your Microflex® 93-850 free sample, click here
---
No equivalent
In chemical permeation tests of a wide range of chemicals, 93-850 gloves outperform other brands of disposable nitrile gloves—offering 2X more chemical splash protection.
Fewer defects
These new gloves have 73% fewer defects per lot than competing disposable gloves thanks to an unmatched Acceptable Quality Level (AQL) of 0.40.
No need to double up
One glove per hand is all you need, thanks to high durability and a tensile strength of >26 MPa or force at break of >12 N.
---
Shop more styles from Ansell® that go beyond protection
---
Download the product details you need to make the right choice