On-site Gas Generation Solutions
Airgas provides a variety of on-site gas generation solutions to fit the needs of your unique business.

Air separation units (ASU) compress, liquefy and distill air to separate it into its various components: nitrogen, oxygen and rare gases (argon, neon, krypton and xenon).
Large-scale gas generation units (tonnage) including FLOXAL™ on-site for large industrial customers such as steel mills, chemical plants and refineries. Large-scale FLOXAL on-site gas generation is available for nitrogen, hydrogen and oxygen.
Steam methane reformers (SMR) produce carbon dioxide and FLOXAL hydrogen through steam reforming using the latest and most reliable technologies. Hydrogen is typically used in the oil-refining process for hydro-desulphurization and to convert heavy crude oil into cleaner-burning transportation fuel.
With on-site gas generation from Airgas, you can minimize costs with a supply system that meets your unique gas usage profile. We assure continuous, worry-free gas supply, so you can get back to doing what you do best.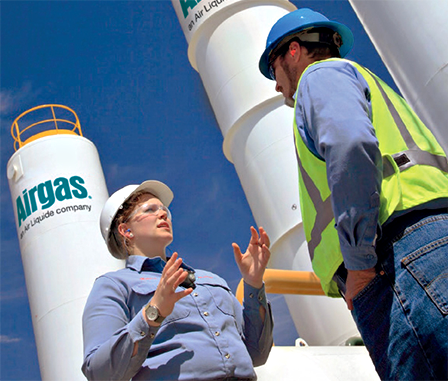 Airgas offers multiple on-site generation solutions to meet your usage needs.
---
Read more from our specialists
Are You Ready For On-Site Nitrogen Generation?
How to determine if on-site generation is the right solution for you
---
Why Airgas?
In the U.S. and globally, Airgas has the expertise to supply you with a variety of on-site production systems designed to help increase your operation's production while improving efficiency. In addition, partnering with a single-source supplier will save you time and help you gain more efficiencies. Our one-stop shop offers a large national footprint and comprehensive collection of products and services, including industrial and specialty gases in a variety of packaging options, equipment and hardgoods, and safety products and PPE.