Helium

---
The flip side of higher sales is reduced levels of vital commodities that make those sales possible.
Whether it's for balloons, refrigeration systems or arc welders, your business can't afford interrupted helium supply.
That's why you need a supplier who will go above and beyond to provide the helium you need when you need it—and then help you get the most out of your supply. So, in addition to consistency in supply, enjoy cost-saving measures that will sharpen your business.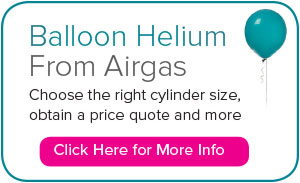 Source from an industry leader who never settles
We take a serious approach to ensuring access to the helium that's primarily used to fill so many balloons.
As the company who has fought and won—on your behalf—for wider access to the Federal Helium Reserve, we're always looking for ways to bring more economy and efficacy to your supply chain.
With customized online tools for purchasing and inventory management, including tracking gas usage, we make sure that the only thing rarer than helium itself are instances when you're running low on it.
Get the helium you need for:
Retail: balloons from party suppliers, florists, pharmacies, card shops and grocery stores
Automotive: specific blends for arc-welding applications
Plus, with more than 1,100 locations nationwide, you're backed by a multichannel customer service network that includes:
Expert account managers
Industry specialists
Dedicated telesales teams
Robust eProcurement platform
Partner with a supplier who fights for your rights
When a worldwide helium shortage rocked industries in 2012, on behalf of our customers, we successfully testified before both the House and Senate for broader access to the Federal Helium Reserve. And we're continuously working with The U.S. Bureau of Land Management to free up even more access to this taxpayer-funded resource.
Save across the board with smart solutions
Helium supplies may have stabilized, but you can still benefit from our efficiency measures that helped in leaner times. If there are ways to improve your processes while using less helium, we'll help you find them. Tracking gas usage provides a window into your process, and Airgas Inventory Management (AIM™) helps to prevent you from returning partially full cylinders.
Meanwhile, our hands-on cylinder expertise will help you to avoid common mistakes in handling and usage that often result in costly leaks and preventable accidents. As a leader in workplace safety, our representatives are always available to extend our commitment to protecting your workforce by instructing your staff on proper techniques for using helium as well as handling and maintaining cylinders.
Consistently meet customer demands with a smart supplier. Save money and optimize usage while buoying your business with solutions that are constantly evolving. Thrive and grow with a supplier who will continue to push for wider access to the national helium supply.