Say 'No' to Contractor Design
by Robert Jimenez, National Technical Manager and Design Assistance Program Manager of Airgas, an Air Liquide Company | Winter 2017 Issue
Would you consider going to your auto mechanic for advice to fix your bad back? Probably not.
Lab managers, however, tend to make a similar common mistake—relying on plumbing contractors to design and install a gas delivery system for high-purity analytical instrumentation applications.
Plumbing contractors specialize in moving materials through piping systems, but may not be experts on requirements for purity and what design features/components are needed for an analytical system. Contractors sometimes assume all high-purity systems have the same requirements, which is not the case.
When a contractor installs hospital systems, for example, he/she specifies the same gas pressure control systems for analytical applications. These are two entirely different types of systems. You will not get consistent results through the use of medical manifolds or regulators installed in place of high-purity analytical equipment. You'll prevent lack of repeatability and cause unnecessary rework costs by installing improper equipment. Make sure you are getting systems that are specifically designed for high-purity analytical instrumentation.
Manufacturers of chromatography equipment and gas industry suppliers recommend installation of the proper equipment to ensure optimal operation of instrumentation. Subcontractors should never be allowed to interpret what is "an equal equivalent" component to any gas delivery system.
The gas supply system is a basic part of the chromatography process and is the core component that ensures process accuracy. The basic parts include:
The gas supply system
The flow control equipment
The injector
The column
The oven
The detector
The data collection system
The gas supply is a critical component that affects the integrity of the data generated. According to Chromatography Today, there are eight common chromatography mistakes, three of which are directly related to the gas delivery system.
Incorrect gas flow to a flame ionization detector
Heating a column without any carrier gas flow
Running out of gas
Flooding the injector liner with sample
Leaky septum
Column not conditioned
Using the wrong syringe
Preventative maintenance not carried out
Be forewarned: Mistakes like those listed above will lead to incorrect operations of your chromatographs. Be aware of the issues that may arise to achieve the most accurate and reliable analyte peaks.
Baseline noise makes it harder to quantify the analytes and is directly related to gas quality and delivery system integrity. In reality, the baseline is a direct reflection of the purity of the carrier gas—noise reflects impurities. The maximum level of each contaminant requires you to determine that contaminant's effect on your process and its potential impact on your results. Make sure your gas supplier provides a consistent gas product at these levels for each contaminant. Confirm the components of the gas delivery system and that the molecules touch—not adding any contaminants to the stream. Lubricants and cleaning methods are common sources of contamination caused by components. This is critical to ensure consistency and repeatability in your GC applications.
Gas Purity Selection
When choosing a gas purity grade for use with your chromatography equipment, you should consider your process and expected results.
Important questions to ask include:
What do you expect regarding data?
What level of accuracy is acceptable?
Are you doing PPM level analysis or percent level?
How critical is the quantification of that analyte?
What do you consider excessive instrument downtime?
What are the minimum purity specifications for the gases used in the measurement?
What are the maximum levels of each impurity your instrumentation can be exposed to?
Are you sure you are asking for the correct grade of gas for your measurement?
Always refer to both the instrument and column manufacturers' operations and setup guides to assure that you're using the proper gas for the instrumentation. The column specifications will list the maximum levels allowed for each contaminant to work correctly with the processes it was designed for.
Remember: For the process to work correctly, you need the gas purity to be consistent from cylinder-to-cylinder and delivery-to-delivery. Make sure you are getting a dependable product. The purity at the supply source needs to be the same as when it enters the instrument. You will see that the consistencies of gas purity and the correct gas delivery system components have a direct effect on your processes.
Choosing the Gas Delivery System That's Right For You
Don't be a spectator—know that the gas delivery system that feeds gas to your instrumentation is as key to getting the performance of the instrument as is the gas purity. Get involved and understand every component. Ensure everything is cleaned correctly and does not have any components or lubricants that will contaminate the gas stream.
Not all gas delivery components are created equal. There are large differences in how this equipment is designed and manufactured that will significantly affect your data. Though most GC manufacturers do not provide detail specifications for gas delivery system, you can ask your installation technician what configuration and components they recommend. In most cases, high-purity analytical-rated equipment is what is necessary to ensure accurate and reliable results.
Before you lock into a new gas delivery system, understand its components and be able to answer to the following questions: • Are the pressure regulators made specifically to be used with high-purity analytical applications?
• Will components of the gas delivery system change the gas purity?
• Will changing cylinders allow atmosphere to enter into the gas stream (changing the purity and causing damage to the column)?
• Are you really in control of the gas pressure and flow?
– Is there the necessary flow and pressure controls?
– Is there a safety relief valve in the system to protect the instrument?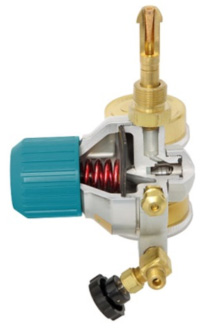 Forged body regulators, typically made from brass material are not acceptable for high-purity applications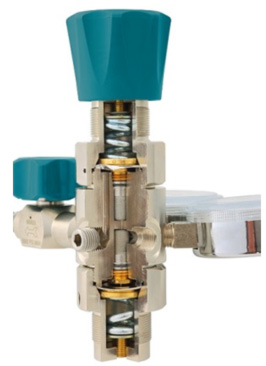 BAR stock body regulators with brass or stainless steel bodies and metallic diaphragms—specifically cleaned for analytical applications—are preferred for high purity applications
All T Bar regulators are welding regulators and not suitable for analytical applications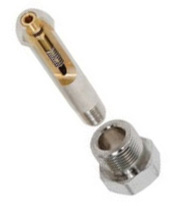 A check valve in the nose of the CGA is the first and most critical component of a gas delivery system as it prevents contaminants from entering during cylinder change out and compromising the quality of the gas creating inconsistencies
Best piece of advice? Be involved and know where to go for help. Use resources available to support the requirements of your system. For example, reach out to the manufacturer of the instrumentation or your gas supplier for help and guidance.
Airgas offers a non-promotional reference—a book titled The Chromatographers Guide to Gases and Gas Delivery Systems. This is a great tool to help evaluate the correct gas purity for your application by understanding how purity is calculated and defined. It'll also help with configurations for gas delivery systems and what design features the components of the system need. Don't forget: The formula for instrumentation if you use high-purity gases through high-purity delivery systems will get the consistent results—sample-to-sample, peak-to-peak.
Personally, I also oversee an Airgas design assistance program. Don't hesitate to reach out if you have any questions about this article, your processes or the design of your gas delivery system. Contact me at Robert.Jimenez@airgas.com or 314-488-8079.
I hope you have found this article informative and useful.