Our Company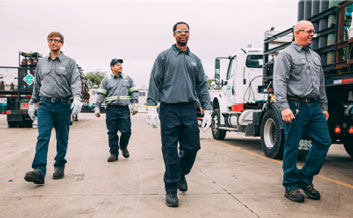 Always at the forefront
Airgas, an Air Liquide company, is a leading single-source supplier of gases, welding equipment and supplies, and safety products.
With more than one million customers, Airgas excels at providing customers, large and small, with the following:
Industrial, medical and specialty gases
Welding equipment and supplies
Safety products
Atmospheric gases - Nitrogen, Oxygen, Argon
Carbon Dioxide
Dry Ice
Nitrous Oxide
Ammonia
Process Chemicals
History
Airgas was founded in 1982 with the acquisition of a local distributor, Connecticut Oxygen. The company has grown organically and through more than 500 acquisitions to become the largest U.S. distribution network in the packaged gas industry. Airgas was acquired by Air Liquide in 2016. Together, the combined company became a world leader in gas and services for Industry and Health.
Serving Diverse Industries
Dedicated to improving the performance of its more than one million customers, Airgas safely and reliably provides products, services and expertise to the following industries through its more than 18,000 associates, over 1,400 locations, robust e-Business platform and Airgas Total Access® telesales channel:
Construction
Energy and chemicals
Food and beverage
Government, defense and aerospace
Life sciences and healthcare
Manufacturing and metal fabrication
Power utilities and materials
Retail services
Trusted Locally Nationwide
Airgas provides personal, attentive and helpful service everywhere customers are located.
Customers can interact and transact with Airgas in the way that best meets their needs: online, in store, or on the phone, anytime and anywhere. This includes a network of 900+ Airgas retail branches, the Airgas.com e-Business platform and a team of expert Airgas Total Access telesales representatives.
Formed through acquisition and strategic organic growth over the past four decades, now part of the Air Liquide Group, Airgas is present in all 50 states. Our national footprint is combined with a regional structure that keeps service close to local customers.
Committed to Safety
Airgas' top priority and core value is the safety of our associates, customers, and the communities in which we operate.
The Airgas Safety program is rooted in the belief that you must know your hazards before you can control them. With detailed safety policies and training, Airgas empowers each employee with the knowledge and skills to safely perform their jobs and to identify and correct unsafe work practices. Annually, all Airgas associates pledge their commitment to Airgas' safety policies and procedures.
Safety extends beyond our plants and branches. With more than 8,200 vehicles in its fleet, Airgas remains steadfastly focused on maintaining a safe driving record. Through rigorous training and commitment to safety by our drivers, Airgas continually achieves one of the lowest accident rates in the industry.
Airgas operates the largest U.S. hazmat organization specifically trained to handle compressed gases, the Airgas Emergency Response Organization (AERO). Specially trained AERO teams located throughout the country respond quickly to emergencies that arise in the communities in which Airgas operates.