---
For maximum capability—such as the high demands of precision fabrication—the Miller® Dynasty® 280 DX offers full AC features, including advanced waveforms and wide ranges of balance and frequency. If the following details and specifications sound like exactly what you need, request your free demonstration and see them in action.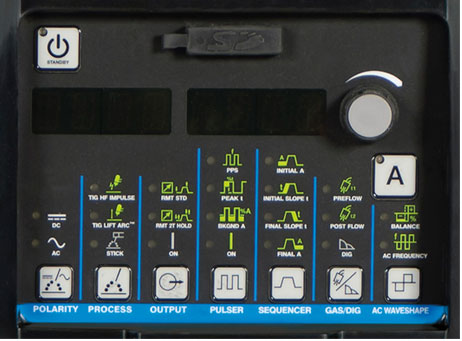 Exclusive Pro-Settm technology eliminates
guesswork with pre-set welding parameters.
Industrial Applications
Precision Fabrication
Heavy Fabrication
Pipe and Tube Fabrication
Aerospace
Aluminum Ship Repair
Anodized Aluminum Fabrication
Big power, small package
Input Power 208: 575 V, 3- or 1-Phase Power
Amperage Range: 280 A (DC), 280 A (AC)
Rated Output: 200 A at 28 V, 60% Duty Cycle
Net Weight: 52 lb (23.6 kg)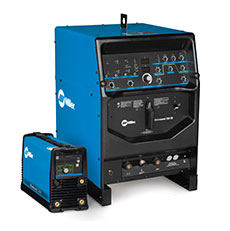 Big difference: the Dynasty (left) weighs
300 pounds less than the Syncrowave® (right).
Processes
AC/DC TIG (GTAW)
Pulsed TIG (GTAW-P)
Stick (SMAW)
Air Carbon Arc (CAC-A)
AC Waveforms
Advanced squarewave: Fast-freezing puddle, deep penetration and fast travel speeds
Soft squarewave: Soft buttery arc with maximum puddle control and good wetting action
Sine wave: Traditional arc. Quiet with good wetting
Triangular wave: Reduces the heat input, offers fast travel speeds and is good on thin aluminum
---