DuPont™ Protective Clothing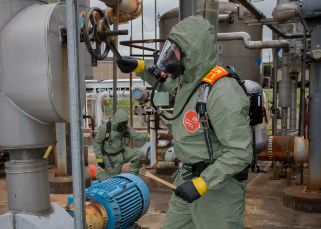 Keep your workers safe from on-the-job hazards with DuPont™ protective clothing
From liquids and particulates to chemicals and cleanrooms, DuPont™ matches workers in all industries with the right personal protective equipment (PPE) to help keep them safe.
As partners in your safety, Airgas makes it easy to shop for industry-leading protective clothing from DuPont™. Find the coveralls and suits you need to help reduce downtime, OSHA violations and injuries on your worksite.
Protect your team every step of the way with DuPont™ PPE.
Tyvek® Protective Apparel
Watch: Tyvek® PPE makes the difference
There are a lot of white suits out there, but there's only one Tyvek®. See why workers everywhere depend on the unrivaled protection Tyvek® provides for built-in coverage that won't wear away. It's essential protection from the hazards you face. Whatever the job, you'll see there's a Tyvek® garment to fit your needs.

0ADD4482AD0743217A55C1692D1F8979
SAFETY BEYOND PRODUCTS
A QSSP-certified safety specialist can help.
0ADD4482AD0743217A55C1692D1F8979