Put safety first, every day
Ensure safety and compliance in your workplace with safety solutions and expertise from Airgas, an Air Liquide company
Safety Beyond Products
With a team of more than 60 QSSP- and OSHA 30-certified safety specialists, Airgas takes safety beyond products. We take the time to learn about your team's tasks so that we can help you select the products and solutions that match the application. And we keep it convenient for you — shop online, over the phone, in one of our local branches or with your account manager. It's always your choice. We're here to help you find the safety products and services you need, when you need them so you can keep moving and stay compliant.
We work with you to:
Identify safety hazards and safety training opportunities for your team with an iMSafe™ on-site safety assessment performed by an Airgas safety expert
Provide hands-on support from your local safety specialist who helps you:

Improve your internal safety program
Assess safety hazards and select proper products
Develop cost-saving strategies and implement solutions to improve your TCO

Access our broad and reliable supply of safety products and PPE from leading manufacturers including RADNOR™
Consolidate your spend, simplify ordering and improve inventory management for gases, hardgoods and safety products with Airgas supply chain solutions
Check Out an Example of Our Safety Solutions for the Construction Industry
Count on Airgas to help keep your team safe
1,400+
Locations Nationwide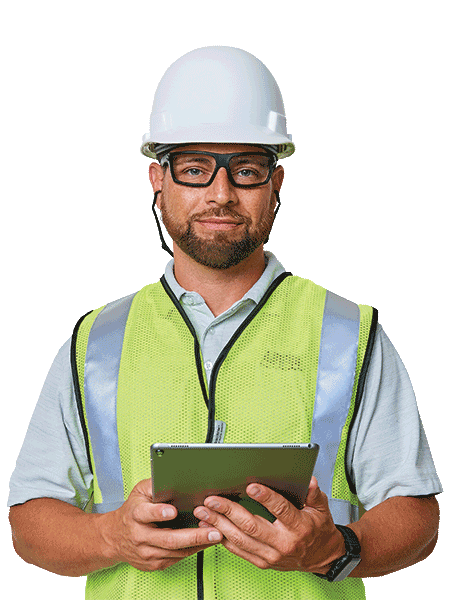 Hear from one of our QSSP and OSHA 30-certified Safety Specialists
Keeping your team safe is my top priority. Whether it's recommending the right safety products, exposing potential risks with an iMSafe assessment or updating you on the latest trends, my goal is helping you maintain 100% safety compliance and remain accident free.
Safety solutions for every industry
Whether you're in a petrochemical or power plant, on a pipeline or construction site, in a metal fabrication shop, a food-processing facility or a glass factory, your team needs a consistent supply of gases, welding and safety products, MRO supplies, power tools and more. As a leading national distributor of safety and occupational health products, including eye and face protection products, protective clothing and respiratory protection products and more, Airgas has the safety products and services you need, when and where you need them.
With an iMSafe on-site safety assessment, we can help you create and implement a safety program so you maintain safety compliance with OSHA regulations in your workplace.
Get more information to help keep your team and facility operating safely