DuPont-Radnor Protective Clothing
What type of suit are you looking for?
Protect yourself from particles, splashes, sprays and other chemical hazards on-site with Radnor® and Dupont® brand coveralls and chemical suits. Shop light-duty, medium-duty, heavy-duty and specialty styles below to get the protection you need at affordable prices.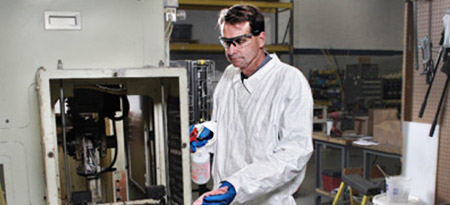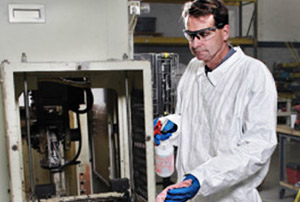 Light-duty
Provides entry-level chemical protection from non-hazardous particles and liquid.
Radnor® Pro-1

Provides entry-level particle barrier to non-hazardous particle contaminants
Cost effective garment suitable for general maintenance, janitorial services and other non hazardous jobs
Coverall with elastic wrists and ankles available in hooded and non-hooded styles
Perforated high-density polyethylene provides breathability, strength and abrasion resistance

Radnor® Pro-2

Provides mid-level barrier protection against non-hazardous particles and liquids at a low cost
Suitable for process applications involving chemical handling and agricultural chemical mixing
Microporous film laminated to spunbonded polypropylene provides a good unabraded barrier against non-hazardous dry particles and liquid splash
Coverall with standard cuffs and elastic ankles available in hooded and non-hooded styles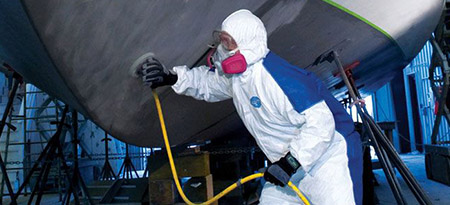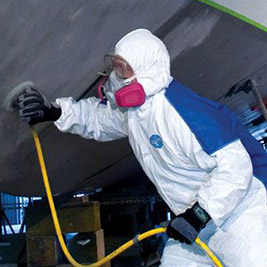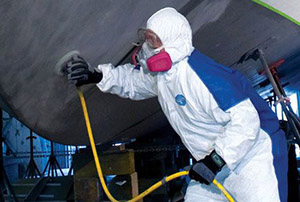 Medium-duty
Provides low-level chemical splash protection and breathable inherent barrier against hazardous dry particles.
Tyvek® 400

Provide light-weight inherent barrier protection against hazardous dry particles and aerosols, and nonhazardous light-liquid splash
Helps protect against small-size hazardous particles, suitable for a variety of applications, including general maintenance, asbestos and lead abatement, spray painting and general cleanup
Provides excellent abrasion resistance
Comfort-fit design based on extensive wearer input provides a more tailored fit, and offers reinforcement in high stress areas for fewer blowouts

TYVEK® 800 J

Suitable for industrial cleaning, petrochemical installations, waste treatment and disposable, and maintenance
Fabric and seams offer chemical-permeation barrier to low concentration water-based inorganic chemicals
Hooded coverall with storm flap, taped seams, elastic wrists, ankles and thumb flaps
Designed for work in very humid applications requiring chemical, liquid and/or oil protection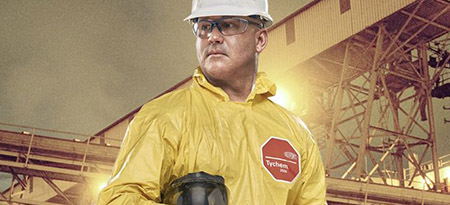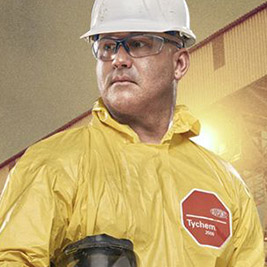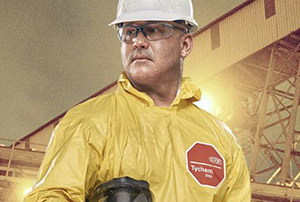 Heavy-duty
Provides mid-level chemical protection against hazardous dry particles, bloodborne pathogens and biohazards.
Tychem® 2000

Provides at least 30 minutes of protection against 42 chemical challenges
Coverall with open wrists and ankles
Tightly sewn seam is covered with garment fabric to reinforce seam and reduce potential for particle penetration
Used for light splash protection in a variety of industrial environments, including petroleum refining, pulp and paper manufacturing, food processing, chemical processing and pharmaceutical manufacturing

Tychem® 4000

Utilizes Saranex™ 23-P film laminated to Tyvek® fabric to provide a rugged and durable material that resists abrasion
Fabric provides at least 30 minutes of protection against more than 124 chemical challenges
Taped seams provide strong chemical resistance against heavy liquid splashes (a sewn seam is covered with a strip of compatible chemical-resistant material through heat sealing)
Typical applications include chemical mixing, hazardous remediation, emergency medical response, paint spraying and nuclear environments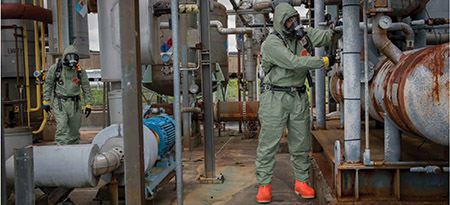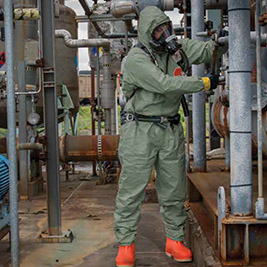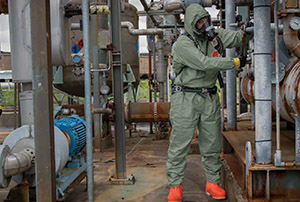 Specialty
Provides low- to mid-level chemical protection against hazardous dry particles, bloodborne pathogens and biohazards. Can be flame- or fire-resistant.
Tychem® 2000 SFR

Provides chemical and secondary flame protection in a lightweight garment
Respirator-fit hood lined with ProShield® 6 SFR and chin flap with double-sided adhesive tape
Provides an effective barrier against a range of inorganic acids and bases as well as industrial cleaning chemicals and particles
Applications include refineries, petrochemical plants, laboratories and hazardous maintenance operations

Tychem® 6000 FR

Offers a single-layer garment that provides triple-hazard protection from liquid-chemical splash, flash fire and electric arc
Attached respirator-fit hood with drawstring pulls tightly around respirator; longer zipper extends to chin for complete coverage of neck area
Taped seams provide strong chemical resistance against heavy-liquid splashes
Provides at least eight hours of breakthrough protection against 17 of the 21 standard ASTM F1001 chemicals and at least 30 minutes of protection for more than 180 chemical challenges, including chemical warfare agents