6533E102F575168C7DEBF122591373A2
BotX™ Cobot Welding System
Multiply your welding workforce!
Contact an expert to get started with BotX.
Thank You!
We received your request.
An Airgas representative will contact you soon.
Meet your newest welder: BotX, your welding workforce multiplier
BotX addresses the skilled labor shortage by enabling companies to quickly acquire easy-to-use automated welding systems through short or long-term rental, lease or purchase programs. BotX allows you to quickly scale up — or down — your production capacity to align with your current business needs, with no capital investment.
Compared to traditional automation, cobots are:
Easier to program — even when setting up multiple welds and processes
More ergonomic — decreasing the amount of strain on the welder
Capable of producing more parts — adding capacity to your operation
Easier to learn — operators can be trained to run a cobot very quickly
Discover some of the advantages of BotX
Zero up-front investment
Flexible commercial options — rent, lease or purchase
Set-up and training are included
No long-term commitment required
Online and offline system options
Full implementation support
24/7 personalized virtual support via app
The BotX was jointly developed by Airgas, Air Liquide and Red-D-Arc to help fill the skilled welder talent shortage you face by leveraging your existing workforce.
Learn more about BotX.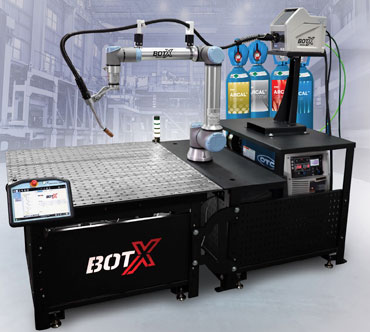 BotX system options
BOT

X

XHR
BOT

X

XSR
Description
Cloud-connected system with continuous, real-time
monitoring. Provides welding and production data along
with automatic access to software enhancements
An offline system capable of advanced welding processes.
Achieves superior welding performance on all materials,
including aluminum
Table Options

4' x 4' (1 table total)
4' x 8' (2 tables total)
4' x 8' x 4' (3 tables total)
4' x 2'- 6" Mobile Cart

4' x 4' (1 table total)
4' x 8' (2 tables total)
4' x 8' x 4' (3 tables total)
8' x 8' (4 tables total)
Docking Station Only
Cobot Arm
UR10e Cobot Arm
UR10e Cobot Arm
Power Source
Miller® XMT 350 MPa or
450 MPa MIG package
OTC P402L or
P502L MIG package
Requires Internet Access
•
Aluminum Welding Capability
Optional Upgrade
•
66-Piece Starter Tooling Kit
•
•
See what others are saying about BotX
"We were creating production parts within half a day."
Bill O., Production Manager
"As a seasoned welder, I've never seen better."
Alex W., Welding Supervisor
"It's extremely easy to use, cost efficient, and there's no capital dollars out of our pocket. We can go spend our capital on other stuff and not worry about whether or not we can weld these parts."

Kyle R., Owner

"The programming is exceptionally easy, adaptable, and fast compared to the other robots we have and have reviewed."

Jesse K., Foreman

"There was a 40% improvement for first time quality, better weld seal, and leak tester improvement."

Jeff R., Welding Engineer

"With labor shortages the way they are, we can't find people, we're relying on the BotX."

Hermes C., Senior Production Manager
Learn more about how one production run yielded a 400% increase in cycle time
When Heartland Steel needed to increase their production but was unable to find enough welders, they decided to give the BotX cobot welding system a try. Discover why BotX was just what they needed to expand their capacity and achieve their productivity goals in this article in BOSS Magazine.
Read about BotX in BOSS Magazine
Want to know more about BotX?
Contact an expert now to schedule a demo. You'll see how: 
BotX welding cobot system runs and what it can do 
BotX is quickly installed by our experts and ready to get to work 
Your team can learn to use the BotX right on your site
You can run the BotX conveniently from your smartphone or tablet with just a few taps
Welding recipes included with the BotX application allow you to leverage Airgas' welding expertise
You get answers fast with our 24/7 support
BotX helps your operation become more flexible and productive
After a demo, you'll understand why BotX is the skilled welder staffing solution you've been seeking. And, because you can rent BotX when you need it and return it when you don't, it's the perfect way to handle production fluctuations.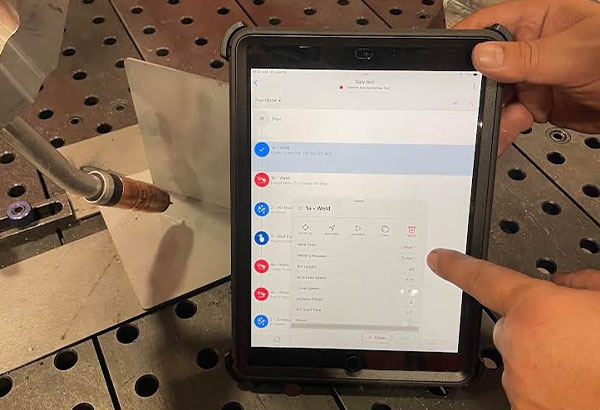 Frequently Asked Questions

We've gathered a few of the most frequently asked questions we've received about BotX.

A: BotX is designed to leverage your existing welders. Instead of continuing to search for difficult-to-find skilled welders, BotX can be taught to weld routine parts. This frees up your existing workforce to focus on higher value tasks such as more complex welds or managing several BotX systems!

A: Yes. Once your existing skilled welders are trained to operate BotX, you can fine-tune the welding parameters to achieve your engineered specifications. This makes it easy for any operator to perform highly accurate, consistent welds. Plus BotX includes a library of welding recipes to assist you in getting each application to the optimal starting point.

A: BotX MIG welds virtually any material, including aluminum. The system is available in various table sizes and configurations, with the ability to combine multiple tables for larger parts. Our experts will work with you to evaluate your specific needs and determine if BotX is the right solution for you.

A: Your overall output depends on many factors, however. When compared to manual welding, however, most BotX customers see a 2X to 3X increase in productivity. BotX works at a consistent pace, is capable of faster travel speeds, and reduces time spent grinding or reworking parts due to the consistent weld quality. You'll also see productivity improvements because your skilled welders can do what they do best, and a non-welder operator can tend to BotX.

A: Although you can purchase BotX, you don't have to if you're not ready to make that investment. We offer options to rent or lease the system.

A: Yes. Red-D-Arc weld automation experts will install BotX and train your staff on its use. Ongoing virtual support is available 24/7, with 95% of inquiries solved in minutes. Onsite support is available if your issue cannot be resolved virtually.
More ways Airgas can help you
The BotX Welder is just one way the Airgas Advanced Fabrication Technologies team can help address your unique production challenges. Whether it's helping you improve your welding efficiency via our Unlocking the Hidden Cost of Welding™ program or supporting you along your automation journey, we're here for you. We can help you get started, take the next step, continuously improve, and remain competitive. Contact an expert to learn more.
6533E102F575168C7DEBF122591373A2
6533E102F575168C7DEBF122591373A2