FLOXAL™
On-site gas generation systems
Whatever your production process requires, FLOXAL™ on-site gas generation delivers:
Reliable, uninterrupted gas supply
Consistent flow rates and purity
An adaptable solution made to meet your unique usage needs
FLOXAL makes gas generation reliable and efficient. And since your gas needs can fluctuate, FLOXAL ensures continuous and consistent gaseous volumes of
nitrogen
,
oxygen
and
hydrogen
that can be adapted to your unique usage needs.
Airgas takes the worry out of gas generation by owning, operating and maintaining your gas generation system. Your FLOXAL system is built to a standard design with options for customization and your gas agreement from Airgas includes full service and support for your on-site gas generation system, including installation, operation and maintenance.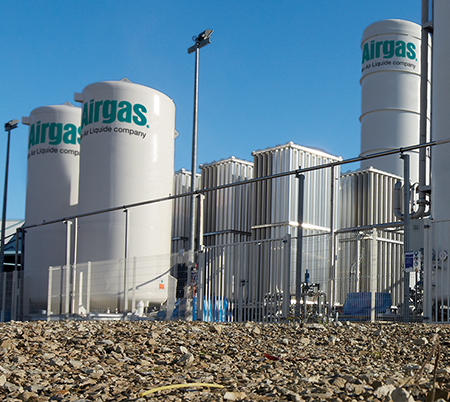 Airgas offers reliable and efficient on-site generation solutions to meet your usage needs and budget.
---
What can FLOXAL do for you?
Combined with over 30 years of on-site gas generation experience, FLOXAL gives you peace of mind so you can focus on your business and your competition. FLOXAL can also help you:
Improve forecasting: optional full usage transparency with performance-tracking and telemonitoring with iDATAL™ backed by a network of alarm response centers and qualified service technicians


Save time: with consolidated billing, you get one monthly invoice that includes:

A single facility fee for all gases used up to the contract flow rate
A single supplemental product price for everything over the contract flow rate
No charges for hazardous materials or deliveries



Get support: have access to over 250 Airgas locations dedicated to gas supply
Airgas has a nationwide gas supply footprint to meet your needs in almost any location.
Airgas offers a full range of state-of-the-art FLOXAL on-site gas generation systems for nitrogen, oxygen and hydrogen designed to provide continuous gas supply with consistent quality and flow rates, all while ensuring safety, reliability and cost efficiency.
---
Read more from our specialists
Are You Ready For On-Site Nitrogen Generation?
How to determine if on-site generation is the right solution for you
---
Why Airgas?
In the U.S. and globally, Airgas has the expertise to supply you with a variety of on-site production systems designed to help increase your operation's production while improving efficiency. In addition, partnering with a single-source supplier will save you time and help you gain more efficiencies. Our one-stop shop offers a large national footprint and comprehensive collection of products and services, including industrial and specialty gases in a variety of packaging options, equipment and hardgoods, and safety products and PPE.