Retail—Helium

---

Whether it's for balloons, refrigeration systems or arc welders, your business can't afford interrupted helium supply.
That's why you need a supplier who will go above and beyond to provide the helium you need when you need it—and then help you get the most out of your supply. So, in addition to consistency, look for a supplier that provides cost-saving measures that will sharpen your business.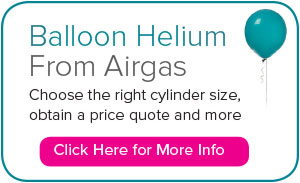 Our helium program is committed to ensuring your success.
There's no dancing around it—helium is a finite commodity, and availability ebbs and flows. That's why, to make sure we're doing our part to help keep your business moving forward, we take our approach to ensuring helium access for our customers very seriously.
We've got a plan for a long-term sustainability
Since the worldwide helium shortage in 2012, we've made significant investments in our helium operation to firmly position us against future availability setbacks. We've also made serious investments in our Retail Supply operations that will help you remain productive and profitable during any future shortages.
Plus, you're backed by a multichannel customer service network that includes:
Expert account managers
Industry Specialists
Dedicated telesales teams
Robust eProcurement platform
1,100 locations nationwide
Get the helium you need for:
Retail: Balloons from party suppliers, florists, pharmacies, card shops and grocery stores
Promotions: Attention-grabbing balloon displays for events and sales
Automotive Specific blends for arc-welding applications
Save across the board with smart solutions
Our hands-on cylinder expertise will help you to avoid common mistakes in handling and usage that often result in costly leaks and preventable accidents. As a leader in workplace safety, our representatives are always available to extend our commitment to protecting your workforce by instructing your staff on proper techniques for using helium as well as handling and maintaining cylinders. If there are ways to improve your processes while using less helium, find them with Airgas.
A4400081EF371356D23956DB4BC69C16

Talk to an expert about your gases, hardgoods and safety needs.