Dry Ice Home Delivery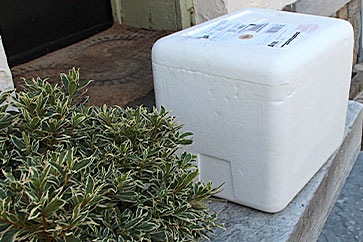 Dry ice helps you deliver the goods
Rely on Airgas Dry Ice to deliver consistency—so you can too
Routinely delivering perishable items to your customers' doorsteps is tricky. Doing it without a reliable supply of dry ice is next to impossible. That's why Airgas Dry Ice leverages our nationwide distribution network to provide an uninterrupted supply of the dry ice and custom shipping containers your business depends on.
---
Choose Airgas Dry Ice for shipping and home delivery when you need dry ice that's:
Safe to use in your applications
Our proprietary metal-detection process helps identify potential contaminants
Airgas Dry Ice consistently produces a food-grade product that meets or exceeds the provisions of FDA requirements in 21 CFR 110
We use food-grade liquid carbon dioxide to produce all of our dry ice products
Our dry ice meets and/or exceeds Compressed Gas Association (CGA) standard specifications
Brought to you in a clean, traceable container
Every product that leaves our facilities complies with our strict chain-of-custody protocols
Our first-in, first-out box rotation practices reduce the impact of sublimation
Our quality control program was developed around Hazard Analysis and Critical Control Points (HACCP) and modeled after ISO 9001
---
Dry ice containers and gel ice packs for shipping
Airgas Dry Ice offers styrofoam containers designed to transport one product—yours. Outfitted with dry ice and/or gel packs, these lightweight containers also:
Withstand the wear of the delivery process
Fit into matching corrugated cartons for added strength and insulation
Reflect heat to help extend the lifespan of your delivery
---
Talk to us about your dry ice needs
Share your contact information to request a call or email from an Airgas Dry Ice specialist
Request A Follow-Up
Schedule a dry ice pickup
Use our store locator to find and contact your closest Airgas Dry Ice distribution point
Find Your Store
---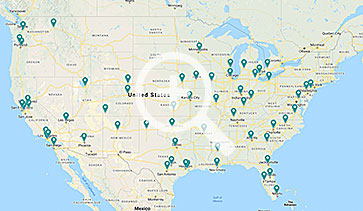 Wherever you are, Airgas Dry Ice is there too
No matter how many locations you operate, no supplier is better positioned to serve you than Airgas Dry Ice. Our 15 production facilities and 50 distribution points are strategically located across the U.S., making it easier for you to get the products and services you need, when and where you need them.
---
Find the correct type of dry ice for your specialized application
Rice Pellets
Approximately ¼"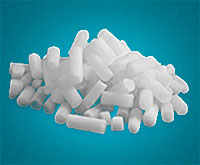 Standard Pellets
Approximately ½-¾"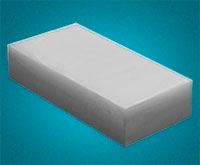 Half-cut Block
Approximately
5" x 10" x 2 ⅜"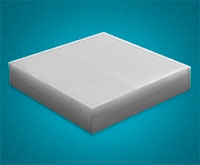 Cut Block
Approximately
10" x 10" x 2 ⅜"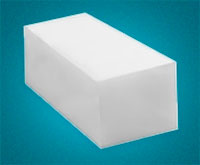 Quarter Loaf
Approximately
5" x 5" x 10"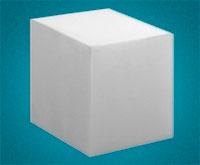 Full Block
Approximately
10" x 10" x 10"
Get more details about each product on our Dry Ice Products page.
---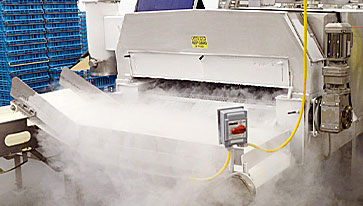 Looking for more ways to chill and freeze your products?
Airgas engineers can work with you to build the cooler or freezer that fits your space and your production goals. Learn what we can do for you.