3M™ Fall Protection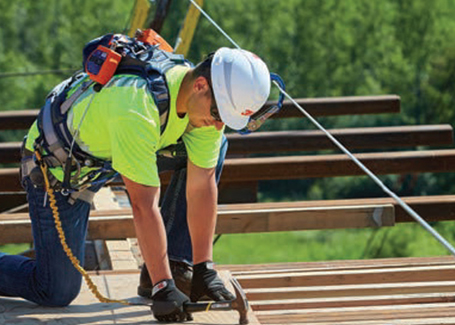 3M fall protection at any height
Nearly half of all U.S. construction worker deaths are due to either falling or being struck by a falling object, according to Department of Labor statistics from 2015. Keep your team safe on jobs at height with harnesses, lanyards and lifesaving fall protection accompaniments from 3M™.
---
Shop 3M innovations in fall protection
View our full collection of Fall Protection products from 3M. SHOP NOW
Watch: A smarter solution to jobs at height
Protect yourself while working at height. Stay informed on the risks of leading and sharp edges, the dangers of non-LE rated products and the importance of LE-rated products, featuring 3M's most effective leading‐edge solutions.
Watch: Protect yourself from leading and sharp edges
Discover how 3M brings their science of safety to life. See how their Smart Lock Self-Retracting Lifelines utilize special technology to study the way users work, move and interact with SRLs on a typical job site. Learn how 3M can help you improve productivity and fall protection.