Cutting Hard-to-Reach Areas with Hypertherm®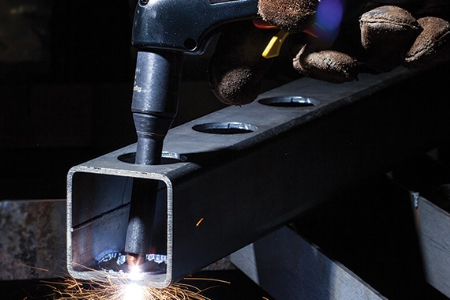 A Powermax user makes cutting through a box tube easier by using a handheld torch equipped with HyAccess consumables. Photo courtesy of Hypertherm.
Some things you just can't reach—until now with Hypertherm
By outfitting your Powermax® plasma system with HyAccess™ consumables, you can open up a whole new world of possibility. Learn why extended reach cutting with Hypertherm® products makes it easier to perform tough applications like:
Cutting channels or beams with deep grooves
Gouging welds in oddly shaped pieces
Cutting or gouging inside an engine compartment or inside a wheel well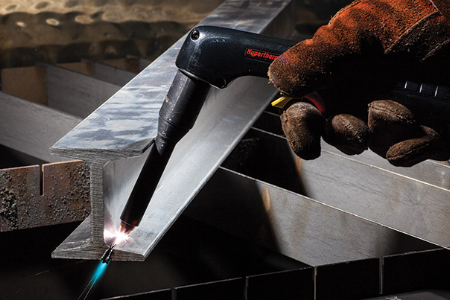 A Powermax user extends the plasma cutter's reach with HyAccess consumables to more easily perform the desired cut on an I-beam. Photo courtesy of Hypertherm.
Extend your reach with Hypertherm HyAccess™ consumables
Lots of jobs require you to cut metal that isn't flat or easy to access. You might have to cut through something like an I-beam, C-beam, box tube or a piece of metal welded inside something else. Hypertherm's solution—developed with feedback from customers who repeatedly asked for a way to cut metal like this—is pretty simple. You don't need a new plasma system, all you need is a new set of consumables.
HyAccess consumables from Hypertherm are longer and thinner than normal, extending the user's reach by three inches, making it easier to cut in tight places. These consumables are available for almost all Powermax air plasma systems and even some older MAX plasma systems. You can learn more about HyAccess by visiting the Hypertherm consumables page.
---
---
Shop Top Hypertherm HyAccess Products