Hypertherm Powermax SYNC™ Plasma Systems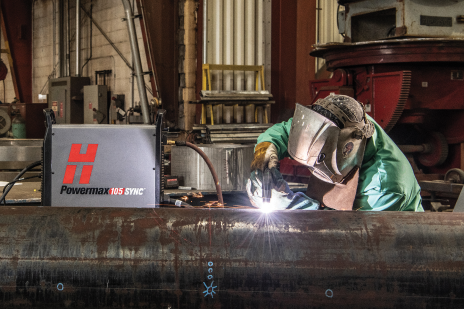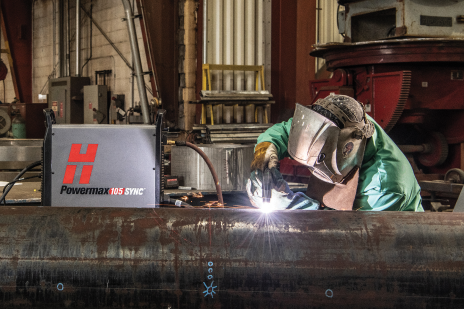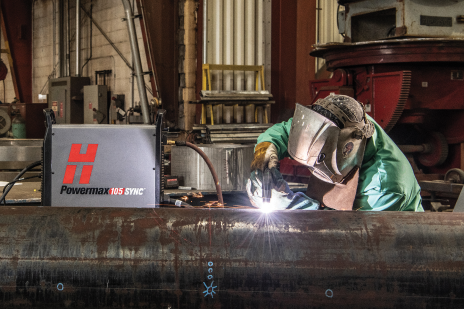 Why Powermax SYNC is unlike any plasma cutter you've seen before
Powermax SYNC, the next generation of Powermax65®/85/105 systems, not only simplifies system operation, but it also streamlines your consumable inventory, lowers operating costs and maximizes performance.
Need help choosing the right Hypertherm solution, including the new Powermax SYNC series? Browse and compare specifications using the comparison chart below.

Shop Powermax Plasma Systems
65 SYNC
85 SYNC
105 SYNC
30 AIR
30 XP
45 XP
125
Cut Depth
3/4"
1"
1-1/4"
5/16"
3/8"
5/8"
1-1/2"
Severance
1-1/4"
1-1/2"
2"
5/8"
5/8"
1/8"
2-1/4"
Output range
20–65
25–85
30–125
15–30
15–30
10–45
10–45
Input phase
Single or three
Single or three
Three
Single
Single
Single or three
Single or three
Mechanized
cutting
•
•
•
•
•
Drag cutting
•
•
•
•
•
•
•
FineCut®
•
•
•
•
•
•
Marking
•
Precision gouging
•
Max control
gouging
•
•
•
•
•
Max removal
gouging
•
•
•
•
HyAccess®
•
•
FlashCut™
•
•
•
•
•
shop now
shop now
shop now
shop now
shop now
shop now
shop now
More reasons to choose Powermax 65/85/105 SYNC™ plasma cutters
With a Powermax SYNC system, you can do the following:
Get twice the life for hand cutting and improved quality over life in mechanized setups compared to standard consumables
Easily tackle a wide range of jobs with interchangeable torch styles and application-specific cartridge consumables
Optimize cutting and gouging performance with cartridge data
Ensure consistent starting and a more reliable torch with SpringStart™ technology
Eliminate setup errors automatically with new SmartSYNC™ torches with the Hypertherm cartridge
SHOP Powermax sync
See what Hypertherm Powermax SYNC users are saying:
I've been using the new Powermax65 SYNC since last summer. Honestly, I can't even put into words how freaking rad this thing is ... this is going to completely change the industry. One cartridge. No slag, beautiful lines, even fine ones. So if you're on the fence about getting one, let this be your sign to just go for it!
Rae Ripple, United States
Explore more about Hypertherm Powermax systems
C7A619B952AE9D0055F698C0F3330D11
GREAT CUTTING STARTS HERE
Talk to our specialists about welding equipment, gases or safety.
C7A619B952AE9D0055F698C0F3330D11