Six Reasons to Choose Plasma Over Oxyfuel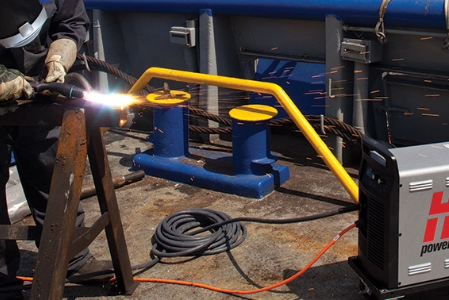 A Hypertherm user prepares a welding workpiece by gouging with Powermax—the best way to achieve maximum material removal. Photo courtesy of Hypertherm.
The choice is much easier than you think
When it comes to cutting metal, two widely used thermal processes are oxyfuel and air plasma. While oxyfuel is proven, cutting with a Hypertherm® plasma system means more versatility—and lower costs—with a better performance record. Keep reading to see six reasons that make a clear case for which process is more effective.
Versatility



Oxyfuel can only cut ferrous metal. It cannot cut non-ferrous material, stainless steel or aluminum, and is generally only used to cut metal approximately 2" (50mm) in thickness or greater. Plasma can cut both ferrous and non-ferrous material including rusted, painted or grated metal. It's most commonly used to cut metal between gauge and 2" thick material.

Safety



Oxyfuel requires a highly flammable fuel gas and an open flame, creating significant risk. Once the torch is lit, the flame stays on until the system is manually turned off. Plasma does not use a fuel gas and its arc automatically extinguishes when the torch is removed from the metal.

Ease-of-use



With no gases to mix or regulate, plasma is much easier to use than oxyfuel—minimizing training, improving results and increasing profitability. When using oxyfuel, operators need to set and maintain flame chemistry while holding a steady distance between the tip and surface being cut. Many handheld plasma torches allow the operator to drag the torch on the material. No standoff is needed.
Cut quality



Manufacturers now have to compete on product quality more than ever. Overall, plasma produces more precise and cleaner cuts than oxyfuel with better angularity, a thinner kerf, a smaller heat affected zone and little to no dross.

Productivity



Plasma is at least twice as fast as oxyfuel when cutting metals up to 25mm in thickness, and up to 12 times faster on thinner materials. Productivity is also affected by piercing delays. It can take 30 seconds to pierce 16mm-thick steel with oxyfuel, while plasma takes less than two seconds.

Operating cost



There are generally three things that affect the operating cost of oxyfuel and plasma: consumables, power and gas. Generally, consumable and power costs are higher for plasma, and gas costs are higher for oxyfuel. While the operating cost of oxyfuel is seemingly lower, plasma's significant productivity advantage makes it more economical to operate overall.
---
---
Shop best-selling Hypertherm® products