3D5A39E6D3FF162E457764A6B5BA2DE6
Avoid heat-related costs, delays and cracks before they start with liquid nitrogen injection
Uncertain conditions can greatly impact even the best laid construction plans. Placement temperature is especially critical for pouring concrete in extremely hot weather conditions and fluctuations can cause production delays and concrete cracking. If you are struggling with the limitations of chilled water and ice, liquid nitrogen injection is the ideal alternative for handling demanding cooling requirements and pour temperature specifications.
Thank you!
We received your request.
An Airgas representative will contact you soon.
What are your challenges?
Cool concrete with liquid nitrogen injection from Airgas
If you're following ACI 305 guidelines for pouring concrete, liquid nitrogen injection can help you achieve and maintain demanding pour temperature specifications in extremely hot weather. ChillRight® and CryoCrete™ liquid nitrogen injection provides safe, uniform and cost-effective results compared to other methods like chilled water and ice. And, our liquid nitrogen injection solutions can cool concrete at any production rate, for any size project, on the pour site or at the batch plant.
Maintain low, uniform temperature specifications including less than 50°F, at any production rate
Realize accurate and flexible temperature adjustments greater than 50°F
No adverse impact on slump, air content, set time or density
Reduce delays and safety risks associated with handling ice, no need to purchase a refrigeration system
Minimize costs associated with labor and eliminate capital investment via lease
ChillRight®
Manual lance hookup for liquid N2
Quickly install elevated platform and truck bays
Ideal for short-term projects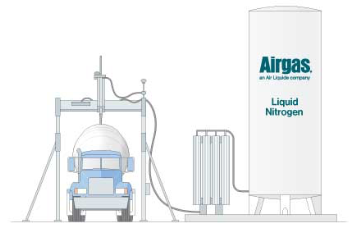 CryoCrete™
Automated lance insertion for liquid N2
Installed on a permanent foundation
Ideal for long-term projects and mass pours
Talk to an Airgas concrete cooling expert today to learn more about how we can help.
More products & services from Airgas
Access nitrogen and other gases nationwide, no matter where your project is located
Optimize your next concrete pour with solutions tailored to address your unique concrete cooling needs and backed by our network of experts
Improve safety for your team and in the communities where you work:
60+ QSSP- and OSHA 30-certified safety specialists
Full line of safety products and PPE
Increase visibility, control and savings with supply chain solutions that help streamline bill pay, simplify reorder, and more
3D5A39E6D3FF162E457764A6B5BA2DE6