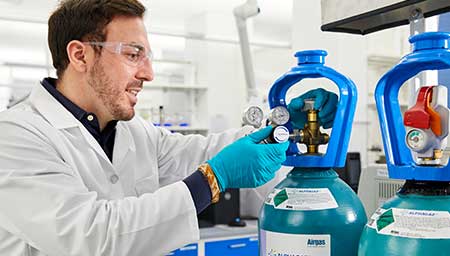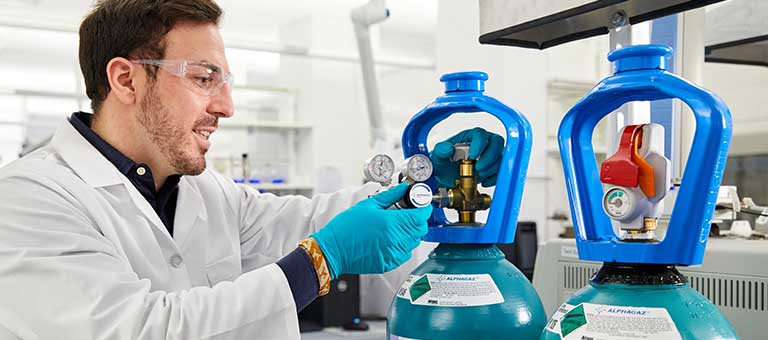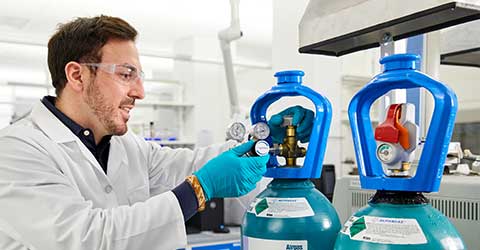 Precisely simple
It's time to simplify gas selection with the ALPHAGAZ premium brand of pure specialty gases from Airgas, an Air Liquide company.
It's time to see analytical gases differently
With so many choices from supplier to supplier, we know selecting analytical gases can seem complex. At Airgas, we understand pure specialty gases and what you need to maintain your important analytical work. ALPHAGAZ, our premium brand of pure gases and delivery equipment, promises a succinct and simple selection of accurate pure gases with guaranteed minimal impurities.
What are your challenges?
Discover ALPHAGAZ pure gases
ALPHAGAZ removes the complexity around pure gas selection for your toughest analytical and research applications, so you can focus on your work instead. You can depend upon the quality, accuracy and traceability of ALPHAGAZ, while optimizing your pure gas supply by ensuring safety and consistency, cylinder to cylinder.
Produced with minimal contaminants
Made in ISO-accredited laboratories with appropriate certificates
Delivered to your point of use with gas handling equipment designed to maintain accuracy of analysis
Depend on the quality of ALPHAGAZ accuracy and traceability by lot number back to the fill batch.
Discover ALPHAGAZ pure gases
Simplify your work with ALPHAGAZ pure gases
ALPHAGAZ™ 1
with SMARTOP™

ALPHAGAZ Nano™
with integrated purifier

Gas
Air, Argon, Helium, Hydrogen,
Nitrogen, Oxygen
Argon, Helium, Nitrogen
Purity specifications
99.999%, except Oxygen is 99.994%
99.9999%+
Impurities reported
H2O, O2, THC, CO and CO2
H2O, O2, THC
Cylinder size
300
300
Compliance
Produced in ISO-accredited facility;
Certificate of Conformance provided
Produced in ISO-accredited facility;
Certificate of Conformance provided
Benefits
Simple solution for most analytical
and process applications ranging
from percent to ppm analysis
Engineered to deliver the highest
purity pure gases for the most
demanding analytical applications
Recommended
equipment
Y12244D(CGA)-AG single-
and two-stage high-purity brass
regulators

Y12NANOBS580-AL two-stage
regulators
Plus regulators, mounting brackets, manifolds, changeovers and more
Download the brochure
Download the brochure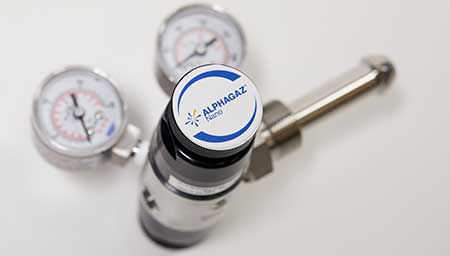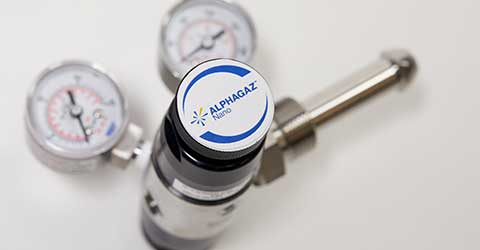 Deliver your pure gas accurately to the point of use
Now it's easier than ever to protect the purity of your gas. Airgas offers a comprehensive collection of gas delivery equipment designed to maintain accuracy and pressure, including a new line of regulators specifically for use with ALPHAGAZ. Complete the form for more information.
Backed by application expertise and reliable services
Save time and gain efficiencies with ALPHAGAZ's reliable gas supply via an extensive US footprint and support by a network of specialty gas experts. ALPHAGAZ is also backed by a variety of supply chain tools, including:
EZ-TRAC™ cylinder tracking
Digital data transfer of certificates such as analysis or conformance
Easy account management
And so much more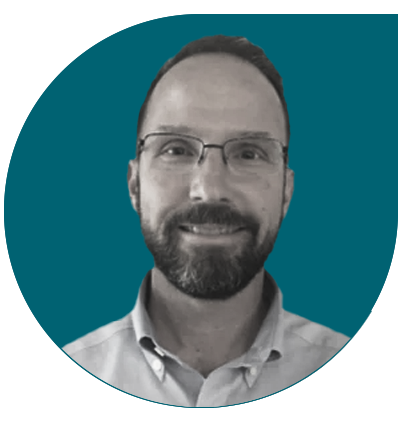 Hear from one of our experts
ALPHAGAZ makes your analytical work easy, safe and cost effective. ...
Todd Zimmerman, Product Line Manager — Pure Gas, Airgas Specialty Gas
"ALPHAGAZ makes your analytical work easy, safe and cost effective. And, not only does it help get the job done right, it also brings a unique experience for our users. Airgas and Air Liquide together continue to advance gas packaging to help our customers stay at the forefront of technology and innovation."
Get the right gas handling equipment to protect your gas
A496225751787E0C08C5946751D861E3

Talk with our specialists for help with your questions or needs related to gases, welding or safety.