Specialty Gases Overview
---

Whether you manage a single facility or multiple sites across the country, Airgas, an Air Liquide company, has the technical expertise and national presence to meet your needs for high-purity specialty gases and precision blends.
With more than 60 regional specialty gas laboratories, two equipment centers and one research & development center, we operate the industry's largest specialty gas network so we can get you the gases you need when you need them.
Our specialty gases and related products:
Ultra High Purity and Ultra Pure Carrier (UPC) grade gases
Pure hydrocarbons
Calibration standards
EPA protocol standards
BAR gases
Vehicle emissions standards
VOC mixtures
Electronic grade gases
Transportable gases
Medical gases
Laser gases
Halocarbons
Refrigerants
Process chemicals
---
Added value solutions for specialty gas users
In addition to gases and products, we also provide a complete a suite of solutions and services for your specialty gas needs, including:
On-site inventory maintenance & cylinder tracking
LESSTM – Laboratory Equipment System Survey program
Application expertise
Regulatory expertise
Distribution synergies with other gases and supplies
Raising the standard for quality gas mixtures
Meeting the highest standards for quality management is a high priority for us because it's important to our customers. That's why approximately three quarters of Airgas specialty gas labs are ISO 9001 registered and eight are ISO/IEC 17025 accredited.
Our dedication to high standards is also why The National Institute of Standards and Technology (NIST) trusts us to provide the Standard Reference Materials (SRMs)—the yardstick by which all other gas mixtures are measured—for gas mixtures used worldwide.
---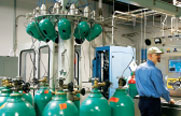 Our labs have it down to a science with AcuGravTM
All of our specialty gas filling locations use AcuGravTM, our patented filling system that's totally computerized and provides precise, quality gas mixtures every time. This technical achievement is radically changing the definition of precision and quality in specialty gas mixtures.
---
Make smart choices for your laser operations
Gas purity is critical to maintaining laser productivity. The Airgas Smart Indicating Purifier helps purify the gas stream to the resonator and provides early warning of gas impurities to prevent damage to resonator optics and electrodes. As the purifier media changes color, you'll have a quick, clear indication that contaminants have entered your gas stream.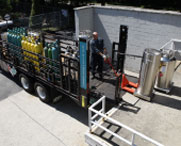 The right supply modes
You can count on Airgas to meet your gas supply needs safely and reliably with a full range of supply modes, including:
High-pressure and low-pressure gas cylinders
Portable liquid dewars
Airgas MicroBulk
On-site tube trailers
865ED90A375718A973BFB4A66E1B0D86

Talk to an expert about your gases, hardgoods and safety needs.