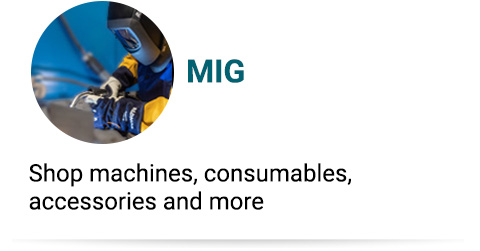 Knowing is half the purchase
When you're shopping for MIG welding supplies, it's important to choose products that support your needs and goals. Here are a few facts that could influence your decision:
Amperage has a greater impact on base metal penetration than voltage does
Welding in spray transfer mode requires a shielding gas containing at least 80% argon
You can find more helpful tips to help you buy smart on our MIG Welding Tips & Tricks page
WATCH: Get a closer look at the MIG process
---
Complete your MIG welding setup
Use this diagram to guide your shopping experience
1.

Shielding Gas

2.

Regulator/Flowmeter

3.

Gas Hose

4.

Wire Feeder

5.

Power Source

6.

Feeder/Contractor Control Cord

7.

Electrode Lead
8.

Work Lead

9.

Work Clamp

10.

Coolant System

11.

Water In

12.

Water Out

13.

Gun

14.

Work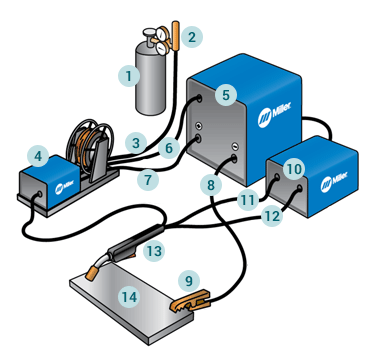 ---
For additional welding products click here, or shop from our expanded collection of welding safety products.

Contact us today to request a follow-up call with a MIG welding expert.