INTELLI-OX+™

Want to learn more?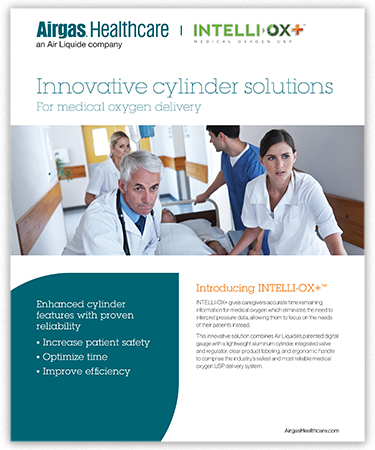 Download our brochure and access detailed information about
INTELLI-OX+™.
Contact an Airgas Healthcare representative
for more information about Airgas Healthcare products and services, including INTELLI-OX+™, Walk-O2-Bout® and Total Gas Management.
Spend less time interpreting pressure data and more time focusing on patient needs with INTELLI-OX+™, an innovative solution from Airgas Healthcare, a specialized brand of Airgas, an Air Liquide company. INTELLI-OX+ helps you increase patient safety, optimize time and improve your facility's efficiency by keeping track of medical oxygen use. Utilizing a digital gauge, INTELLI-OX+ provides a clear and easy way to identify the time remaining before your integrated portable medical oxygen delivery system runs out of gas.
Newly designed to make your job easier, below are some of the key features and benefits that make INTELLI-OX+ the right choice for any medical facility using portable medical oxygen.
Advanced digital gauge provides a clear technological advantage
Lightweight aluminum cylinder features a newly designed duragraphix label for easy product identification
Best-in-class integrated valve and regulator assembly offer added safety and ease of use
Ergonomic handle makes cylinder easily portable
Flow rate knob is precise and highly visible for peace of mind
Barbed outlet provides a flow range of 0-25 lpm and 50 psi supply through the DISS port
FDA 510k cleared as MR Conditional
Increase patient safety
By automatically calculating remaining time and providing clear instructions on the side of the cylinder, INTELLI-OX+ allows you to focus on patient safety instead of worrying about how much time you have until your cylinder runs out of gas.
With its proven reliability, the digital gauge triggers repeating visual and audible alerts to indicate precisely when the cylinder needs to be replaced. Specifically, INTELLI-OX+ will alert you when there is one quarter of the content remaining and also when the remaining time is at least 15 minutes at the selected flow rate*.
Optimize time
With INTELLI-OX+, you won't have to waste time hooking up unnecessary gas equipment thanks to the integrated valve and regulator assembly. Additionally, INTELLI-OX+ gives you direct information so you can select a cylinder that meets your requirements the first time.
Improve efficiency
INTELLI-OX+ gives you information to help better manage medical oxygen administration. With proper utilization, your facility can eliminate the costs and hassles of unexpected runouts and reduce turnover frequency.
Want to learn more?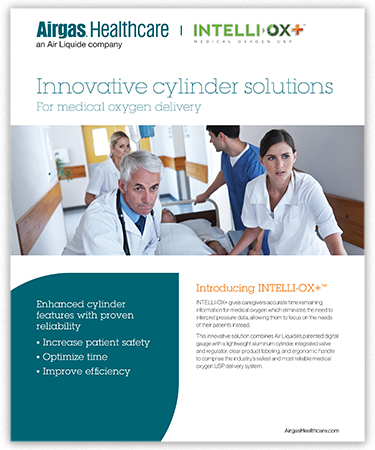 Download our brochure and access detailed information about INTELLI-OX+™.
Contact an Airgas representative
for more information about Airgas Healthcare products and services, including INTELLI-OX+™, Walk-O2-Bout® and Total Gas Management