Changing care. With you.
Improve patient care and oxygen therapy in long-term care facilities
Respiratory and oxygen therapy requirements are complicated and the associated tasks make patient care one of today's most challenging businesses for nursing homes and rehabilitation centers. As caregivers, we understand you are faced with many tough decisions and we are ready to help simplify your choices related to your medical oxygen and medical gas supply.
Focus more on patient care.
We'll focus on your medical gases.
Find out how we can help you with your medical gas supply needs and more.
Manage tighter reimbursements and cost optimizations
Get flexibility in medical oxygen packaging options to avoid runouts during oxygen therapy
Navigate compliance and safety requirements for medical oxygen administration
Save time managing multiple suppliers, reconciling bills, account and inventory management, and monitoring medical gas use
Focus on patient care
Oxygen therapy gases, medical nitrous oxide and more from Airgas Healthcare
Our mission aligns with yours and we support our healthcare customers in their mission to improve lives. And, more than any other medical gas supplier, Airgas Healthcare understands your challenges and can help you make the right choices and simplify your medical gas supply, including safe gas delivery and management.
In addition to a wide range of medical gases in a variety of optimal supply modes, Airgas Healthcare also offers medical oxygen with innovative cylinder valve technology — including INTELLI-OX+™ and WOB+™ — designed for respiratory therapy that requires safe and mobile oxygen. These portable medical oxygen cylinders with integrated valves are FDA 510k cleared as MR Conditional. Gas handling equipment, safety and Personal Protective Equipment (PPE) are available to help you streamline your suppliers, save time and safely improve efficiencies across your facility.
You can also improve visibility into your inventory with digital tools designed to help you better manage and forecast your medical oxygen, medical nitrous oxide and other medical gases. With a large national footprint backed by our team of healthcare experts, we can reliably deliver products on-time and ensure you have what you need, when and where you need it.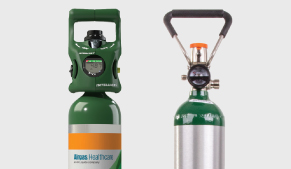 Improve patient safety with
INTELLI‑OX+™ and WOB+™ mobile
medical cylinders
View Features Chart
Hear from a Healthcare Industry Expert
Nursing homes and long-term care facilities have a fragile patient population for whom medical gases can be essential to life. ...
"Nursing homes and long-term care facilities have a fragile patient population for whom medical gases can be essential to life. Reliable gas and product supply means your staff can focus more on the specific needs of your patients instead."
More products & services from Airgas Healthcare
Medical gases, including medical oxygen, in a variety of supply modes
Safety products and Personal Protective Equipment (PPE) to keep you and your patients safe
A network of specialists with expertise in gas delivery systems, respiratory therapy, and environmental, health and safety (EHS)