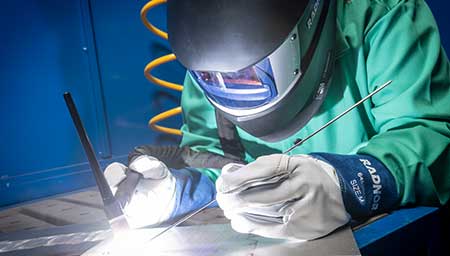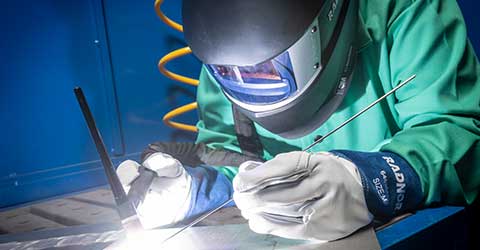 Make your shop a safe environment
Protect your team with safety solutions, products and services from Airgas, an Air Liquide company
Keep safety at the top of the list in your metal fabrication shop
The best way to stay safe is to be aware of the hazards around you and then do what you can to control them. To a great extent, many safety risks are completely manageable and unsafe situations can be avoided altogether. And while all safety risks can't be avoided, there are safety procedures that can be implemented to make them less of a threat. By considering all the different aspects of safety in your facility and on your shop floor, you can develop a plan suited for your workplace to protect the safety of your team.
What are your challenges?
Implement safe practices and procedures for working in welding and cutting
As a company that makes safety its first priority, Airgas supports you in every aspect when it comes to safety in your own organization. We believe strongly in the importance of adopting a complete safety program that helps you eliminate risks and protect your team from the hazards you can't avoid. We're aligned with the principle of managing risks known as the Hierarchy of Controls and will work with you to help you implement a safety program that applies this method to your business.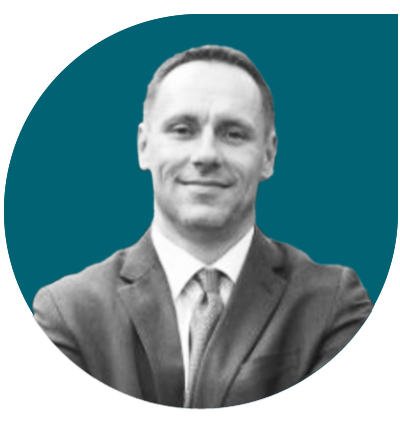 Hear from one of our experts about metal fabrication safety
Safety hazards from these operations include burns, eye damage, electrical shock and cuts.
Chris Herbert, Vice President, Safety and Compliance
"Industrial welding can be dangerous. Safety hazards from these operations include burns, eye damage, electrical shock and cuts. Airgas offers education on the safe handling of gases, fume extraction methods and a suite of safety products to protect against these hazards. In addition, we provide basic and advanced welder training courses as well as iMSafe™ safety assessments to help you identify and avoid potential safety risks on your worksite."
We can help you even more
250BC55B21B1A7473BCAF9F5E8945BBA

When you're ready, so are we